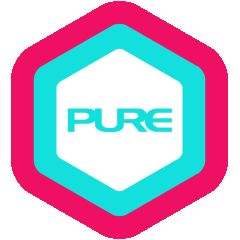 News
Introducing Mat Pilates
Now at all PURE locations
Mat Pilates focuses on strengthening, lengthening and toning your body by primarily using your core muscles while also training your arms and legs. This improves posture, coordination and balance through stabilising key functional areas like the core. Mat Pilates also restores typically sore areas and centres the mind with breath exercises.

Regular practice helps build a strong, stabilised body and increases flexibility. Because Mat Pilates requires concentration, you will notice enhanced breathing, focus, stress management and body awareness as you progress.
Mat Pilates classes:
Signature Pilates

Hot Pilates
Signature Pilates
Centred on Pilates principles, this is an authentic immersive mind and body class and is based around classical Pilates choreography,
where you move organically through sequences with synergy in your body and breath. The class combines controlled movements to achieve a deeper focus on technique with stretches to increase flexibility, all while maintaining intensity. It makes use of the Pilates circles, balls, and bands to
amplify your Pilates workout.
Hot Pilates
This full-body mat-based Pilates workout is performed in a heated room (31-35 degrees). It is a fun and challenging way to fuel your Pilates experience. Incorporating the use of Pilates props, Hot Pilates is designed to strengthen and tone your muscles, increase mobility, burn calories,
boost metabolism, and improve detoxification pathways.

All classes are suitable for all levels.
Book your spot via our PURE360 app. Mats are subject to availability.