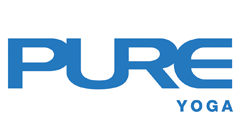 Marsha is a self-proclaimed yoga nerd. But this wasn't always the case. When she first began taking yoga in 2001, she mostly practised hot yoga as it was the only way she could sweat. As a singer/actress/dancer, Marsha always had to keep fit, so she knew the benefits of yoga. However, its repetition and boredom made it difficult for her to keep a regular yoga schedule. It wasn't until 2013 that she became fully committed to her practice. She turned to yoga to help with her mum's recovery from hip replacement and to prevent such injury from happening to herself given their similar backgrounds.
Marsha started at PURE Yoga with Lisa Mak's Hatha 1 classes, which were challenging and actually made her sweat! It was also Lisa who inspired her to fall in love with yoga by showing her the fun side of the practice through her quirkiness and knowledge. Knowledge is what Marsha grew hungry for. Once-a-week yoga classes became twice weekly, then three times a week, and finally almost every day. In 2014, Marsha signed up for the 200-hour teacher training course with Patrick Creelman. He taught Marsha all about alignment – the key to strengthening her practice. Nothing was more satisfying than to be front and centre in class and having Patrick throw out correction cues to her. This was what motivated Marsha to work harder and to put her all into each practice.
Yoga is now a great necessity in Marsha's life. She is addicted to that sense of enlightenment after practice. The struggles and challenges brought her so much joy, whilst the accomplishments motivate her to continue learning and improving every day. Marsha brings this passion to her teaching. She wants people to learn good alignment and feel the benefits of yoga that she feels. Correct alignment is so important to learn early on in order to benefit from each pose without getting hurt, but it takes time to understand this and be more aware of your body. She would like her students to grow in their own practice and become as passionate about yoga as she is. Leading by example, Marsha continues to broaden her yogic knowledge by seeking out classes and teachers when she travels, so she can broaden her own teaching horizons.
QUALIFICATIONS & CERTIFICATIONS
First Aid and CPR Certifications
300-hr Advanced Teacher Training with Patrick Creelman (in progress), 2018
The Foundation, Certified 200-hr Yoga Alliance Accredited Teacher, 2014
Fly Yoga Certified by Isla Rosete, 2014
Certified by the International Pole Dance Fitness Association, 2008
Other teachers also in The Centrium, Peninsula Office Tower