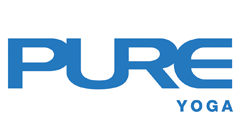 Stephanie credits her sister for introducing her to yoga. Initially just looking to get in shape, she was reluctantly brought to her first class in 2012. She was amazed by what one hour of mindful movement did for her body and was instantly hooked. Having battled with depression and anxiety for the majority of her life, she was astounded by how a regular yoga practice helped not only to calm her mind, but also rewarded her with the confidence she had always lacked. Throughout her first year of practice, yoga bestowed Stephanie with physical strength, great patience, devoted discipline, and an acceptance of herself as well as others. It transformed her life for the better and became an integral part of her daily routine. Deeply inspired by her first teachers Lisa Mak and Shelle Jackson, she decided to attend a teacher training in 2013 with Patrick Creelman, and began teaching yoga immediately after becoming certified.
Over the years, Stephanie has been blessed to learn from some of the most amazing teachers around the world. She credits Jennie Cheung, Lisa Mak and Patrick Creelman for being a constant inspiration to her – for challenging her to dig deeper and continue to grow stronger in both body and mind. She is especially grateful to Jennie Cheung for teaching her to listen to her body and work smart and hard, and for showing her how intelligent movement in yoga can rehabilitate injuries. Jennie taught her that the best teachers are tough. They push their students to their limits, but not without genuine kindness and warmth. You can be the strongest person in the room and still stay humble and compassionate.
Stephanie's classes are challenging but playful. She places an emphasis on alignment and modifications. Having sustained a back injury in 2016, she is adeptly aware that no two bodies are alike – thus her approach to each student as an individual. She believes strongly in the healing power of yoga. She also believes in pushing her students physically so that they may grow to their full potential. Her goal is for her students to gain confidence in their abilities, find joy on and off the mat, and to always leave the studio feeling better than they did when they arrived. Stephanie believes that in order to see progress, students must be dedicated to a regular practice of minimum three classes a week. She hopes that her students will embrace yoga with an open heart and mind, and learn to laugh at themselves when things get tough.
QUALIFICATIONS AND CERTIFICATIONS
50-Hour Bryce Yoga Fit Flow Fly Teacher Training with Briohny and Dice, 2014
200-Hour Foundation to Teach (Pure Yoga) with Patrick Creelman, 2013
Graphic Design & Illustration at London College of Communications, 2007
What Stephanie teaches
Hatha
Healing
Hot
Vinyasa
Yin
Yin Yang
Other teachers also in Soundwill Plaza