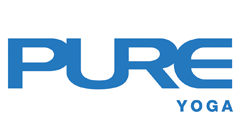 Nikki was first introduced to yoga in 2006 due to some serious health complications. Although initially drawn to the physical benefits of yoga, she kept returning to practice as she found her mind calmer, clearer and more at peace. Over time, yoga has become an integral part of her life as it continues to provide a compass home whenever she feels anxious or stressed.
Nikki is extremely grateful to all who have taught and guided her on the path towards health and healing. Gratitude and thanks go to her teachers at Yandara Yoga who inspired and challenged her to become a teacher; to her teachers at Laughing Lotus who instilled in her courage to consciously choose love and joy; and last but not least to her teachers at PURE who continue to help her deepen awareness of her practice both on and off the mat.
As a certified holistic health coach, Nikki firmly believes that students can empower themselves to choose what nourishes them and brings them clarity and peace. She encourages her students to show up wholeheartedly regardless of where they are in their practice. Through her classes, Nikki guides her students to cultivate more awareness, discipline and compassion within themselves, leaving them both inspired and at ease.
QUALIFICATIONS AND CERTIFICATIONS
WildLotus 300-hr Advance Teacher Training with Patrick Creelman (2020 - present)
100-hr CET, Yin Yoga Teacher Training with Chinese Medicine with Nicky Hadjithoma (2019)
Serenity Vibration Healing Technique with Anita Cheung (2019)
Integrative Nutrition Hormone Health (2019)
Integrative Nutrition Gut Health (2018)
Integrative Nutrition Health Coach (2018)
Reiki Levels I & II with Martina Lee (2017)
RCYT 95, Children & Family Yoga with Karen Wightman (2017)
RPYT 100, Pre- & Post-Natal Yoga with Samantha Chan (2016)
100-hr Laughing Lotus Super Sequencing with Dana Flynn, Ali Cramer & Sheri Celentano (2012)
RYT 200, Yandara Yoga Teacher Training with Allison Eaton & Shane Perkins (2011)
What Nicola teaches
Alignment
Hatha
Healing
Hot
Prenatal
Restorative
Vinyasa
Yin