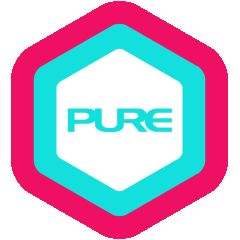 Being airline cabin crew with unstable resting time for several years, June's first encounter with yoga was in 2016 when she felt the need for a healthier lifestyle. Her initial yoga classes were in a boutique fitness centre with the aim to keep fit and alleviate fatigue from work. She found practice interesting and later that same year, she was encouraged by her friends to join a teacher training course.
During the teacher training, she was shocked at her lack of yoga knowledge. Determined to dive into the world of yoga professionally, she terminated the teacher training course and joined PURE Yoga to re-start her yoga journey.
Immersed in a deeper world of yoga, she discovered that it went beyond physical training – it also trained her to be more open-minded. June believes that practising yoga is a journey to observe ourselves, listening to our body's needs and balancing the hustle and bustle of our everyday life.
June's yogic path was lit up by some very important teachers – Shalon Wan, Samrat Dasgupta, Maurice Mettler and Edward Chow.
June's primary yoga teacher is Shalon Wan, with whom she has studied since 2016. Shalon's clear teaching instructions and skills have enhanced June's basic asana alignment, helping her to build a solid foundation for future development. She then continued to deepen her yogic knowledge and practice with Samrat Dasgupta and Maurice Mettler. Both teachers have led June's practice to be more balanced in both flexibility and strength.
Last, but not least, June is also very grateful to have met her mentor Edward Chow. Edward not only helped June to develop a balanced asana practice and skillset, but his passion for yoga also inspired her a lot! He teaches his classes with patience and selfless support to his students. She would love to spread this love for yoga to her students too!
June's teaching focuses on safety and alignment along with clear, step-by-step instructions. She believes that everyone can build their yoga journey based on their individual nature. As a teacher, she encourages every student at all different levels. June believes that yoga is not about touching our toes – it is what we learn on the way down.
QUALIFICATIONS AND CERTIFICATIONS:
200-hr Anahata Advanced Hatha Teacher Training with Yoganatha, 2020
200-hr Hatha Yoga Teacher Training with Ann Marie da Silva, 2017
15-hr Yoga Wheel Training with Yoga Reborn, 2017
Other teachers also in Millennium City 5