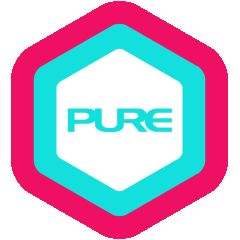 Fiona walked into her first yoga class at PURE Yoga The Centrium in July 2014 just after having had her second baby, hoping it would help her feel more like herself again. It did – and so after she returned to work as litigation and investigations lawyer, Fiona started going back every week. The classes kept her as sane as she was ever going to be and gradually turned into daily practices. Fiona loved how the yoga made her body feel and the way it released her mind. She was also surprised at the parallels that she found with yoga and her day job; her learnings from each complementing the other. As a right-below-knee amputee who lost her leg in the Asian tsunami of 2004, Fiona's yoga practice reminded (and still reminds) her every day that her limitations are more in her mind than in her body – and that positive change never stops if we keep doing the work.
In 2018 Fiona decided that she had to understand why yoga was having such a big influence on her life, take charge of her own practice more, and share what she had gained from it with others. So, she completed her 200-hour teacher training with Patrick Creelman and Rinat Perlman, both of whom she still practises with regularly. Fiona will always be grateful to Patrick and Rinat for teaching her the beginnings of yoga philosophy and giving her the tools, knowledge and confidence to establish her own practice and to begin teaching others. As Fiona's mentor, Rinat has helped her to have the courage to believe in herself as a teacher and to step into that role fully. Since COVID opened the yoga world up, Fiona has also been practising Rocket yoga regularly with Marcus Veda in London. Marcus has helped Fiona to consolidate what she has learned about alignment in asana and the role of the breath in yoga as well as to find more freedom, flow and fun in her practice, all intermingled with great music and a lot of British humour!
Fiona's classes are challenging, alignment-focused, and taught to the breath and beat at a tempo that maximises the beneficial effects that the practice has on the nervous system. Fiona also loves the slightly irreverent edge that yoga brings to her (otherwise pretty standard working mother's) life and does her best to bring that spirit into her teaching. In her classes, she aims to empower her students with the ability to manage any limitations they might have on the mat so that they can participate fully in class and then use that knowledge to participate fully in life.
Qualification Highlights
Rocket Science: The Anatomy of Rocket, Marcus Veda and Hannah Whittingham, 2021
The Jason Crandell Yoga Method, Advanced Teacher Training, Modules 1 and 2, 2020 and 2021
Music & Yoga with Marcus Veda and Hannah Whittingham, 2021
Rinat Perlman's Pure Yoga Mentorship Programme, 2020
Modifications and Adjustments Workshop, Marah Arcilla and Donna Sutton, 2020
The Foundation Teacher Training for Yoga Teachers, Patrick Creelman and Rinat Perlman, 2018
Other teachers also in PURE South - The Pulse