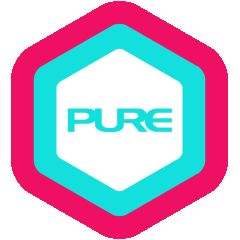 Megan first discovered yoga in an Ashtanga Vinyasa class, part of her physical theatre degree training programme in 2011. She began to experience a greater sense of physical connection and mental quiet and was inspired, continuing to practise Hot and Vinyasa styles in South Africa. In 2017, Megan moved to Hong Kong and was debilitated for several months after an injury to her sacroiliac joint. Her lower back gradually healed through a combination of Pilates and a gentle reintroduction to yoga, and she decided to dedicate more effort and awareness to her practice. She joined PURE Yoga as a student, committing to a gentler and more balanced approach to movement.
In 2018, Megan felt the need to connect more deeply with herself and she travelled to India for yoga teacher training in Rishikesh. Her two-month stay allowed her to develop her practice and to realise the many paths of yoga that exist beyond the mat. One disciplined senior course teacher from Malaysia stood out. He taught Megan the value of a steady and accessible yoga practice. His teachings are based on detailed alignment principles and favour the use of props to support the mind and body. "Yoga is a journey in your muscles," he continues to say. "Travel well with your breath." Feeling grounded, inspired and at home, Megan returned to the school the following year to expand and deepen her knowledge, completing 500 hours of training with her teacher.
Megan strives to build connections in the yoga room, addressing individual needs as best she can. She is detail-oriented and learns as much from students as they learn from class. Yoga should be accessible to all and with this in mind, Megan encourages others to cultivate a deeper sense of steadiness and ease, approaching challenges both on the mat and in daily life with fearlessness, compassion and freedom. Her goal is to bring about deep relaxation at the close of each session. Megan has come to realise that with consistent practice, philosophy and concentration, yoga moves beyond the muscles and connective tissues and into one's breath, thoughts, words and actions. For her, yoga has blossomed into a more balanced state of mind; one that inspires a continually evolving way of life. She hopes to share her understanding of yoga with the people she meets.
QUALIFICATIONS & CERTIFICATIONS
50-hr Vinyasa Yoga Teacher Training with Kalyani Hauswirth-Jain & Ram Jain, Arhanta Yoga Ashrams, 2021
Yoga Nidra Course Certification with Arpit Agarwal, Sri Yoga Ashram, 2020
Nada Yoga Level I Course Certification: Himalayan Singing Bowl Therapy with The Himalayan Academy of Sound Healing, 2020
300-hr Yoga Teacher Training with Jayakumaran Annasamy, The Association for Yoga and Meditation, 2020
200-hr Yoga Teacher Training with Jayakumaran Annasamy, The Association for Yoga and Meditation, 2019
What Megan teaches
Core
Hatha
Healing
Hot
Vinyasa
Yin
Yin Yang
Other teachers also in World Trade Centre