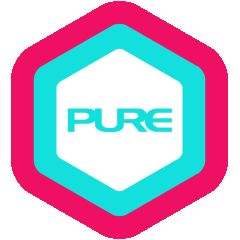 Patricia first dabbled in yoga when she was at university in Australia as a part of her workout regimen. All she wanted was to simply tick off the 'exercise' box on her to-do list, in no way experiencing any connection with yoga. Patricia then moved back to Hong Kong and working a full-time corporate job in a high-pressure environment, she remembered yoga – which was a convenient option as PURE Yoga World Trade Centre was just next to her workplace. From struggling to do a chaturanga and feeling bored in class, she slowly realised that the more she showed up to class, the more she understood the meaning behind practising yoga. Patricia was converted and discovered that yoga is way more than just getting a good sweat and "stretching".
Her love and passion for yoga kept growing and being able to follow through in yoga classes no longer satisfied her. She yearned for more and signed up to her first teaching training in 2020 with Amarjit Kumar. Under Amarjit's meticulous guidance, Patricia has established a strong foundation in both teaching asanas and philosophical yogic knowledge. Having benefitted tremendously from Amarjit's teaching, she has curated a balanced practice that suits her – and she now wishes to share such practice and experience with her students. Patricia is equally grateful for her mentors Natalie Söderström and Nikita Ramchandani, who have enlightened her on and off the mat.
Patricia's classes are dynamic yet grounding. She emphasises a well-rounded practice of working on the whole body and mind. Yoga is for everyone and with this in mind, Patricia aims to cultivate a relaxing yet welcoming environment for practitioners of all levels.
QUALIFICATIONS & CERTIFICATIONS
Singing Bowl and Tuning Fork Relaxation Intensive Modules 1 & 2 with Malbert Lee, 2021
16-hour Functional Yoga Teacher Training with Katherine Lee and Chad Chan, 2021
Awakening: 200 Hours Yoga Teacher Training with Amarjit Kumar, 2020
What Patricia teaches
Core
Hatha
Hot
Vinyasa
Yin Yang
Other teachers also in Pacific Place