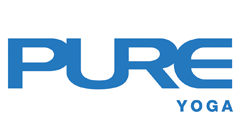 Wendy's love for movement developed at a young age, from gymnastics to snowboarding with many other sports in between. Injuries were always a part of her life, as was learning to heal from them. Yoga was a great friend and tool to help with the healing process. After retiring from professional snowboarding, Wendy pursued her love for teaching and Yoga. Originally from Whistler, Canada, Wendy spent many years living and teaching there as well as in California.
She has proudly resided with PURE Yoga in Hong Kong since 2006. When she's not teaching, Wendy and her husband accompanied by their little boy are out chasing waves and snow and exploring Asia. Wendy is extremely grateful to all her Yoga teachers, but a few have directed her path towards healing and spirituality.
Wendy teaches students to be present, to listen to their body's wisdom and explore postures creatively. She blends breathwork and mindfulness with playful Asana in her classes, leaving one inspired, grounded and at peace.
Wendy has taught many yoga/surf, yoga Ayurveda and yoga detox retreats around Asia. She has also led many successful programmes like 40 Days to Personal Revolution as well as 30-, 40- and 50-hr teacher trainings.
QUALIFICATIONS & CERTIFICATIONS
The Breathing Class with Dr Belisa Vranich - 2020
20 hr Pranayama program with Julia McCabe - 2020
Online Anatomy with Jason Crandell 2019
Yoga Anatomy with Leslie Kaminoff - 2018
Advanced Assisting and Sequencing Retreat with Yogrishi Vishvketu, 2016
Sara Powers Teacher Training, 2012
VishvKetu Rishikesh India Teacher Training (500 hours), 2007
Patrick Creelman Teacher Training (Assisted), 2006
Ana Forrest Teacher Training, 2006
John Friend Anusara Yoga, 2005
Baptiste Power Yoga Levels 1 and 2 and boot camps 2005
Yogi Bhajan Kundalini Yoga Teacher Training (500 hours), 2003
Bikram Teacher Training (500 hours), 2001
Nia Teacher Training, 2000
Gymnastics teacher trainings, 1990
What Wendy teaches
Hatha
Healing
Hot
Pranayama & Meditation
Vinyasa
Yin
Yin Yang