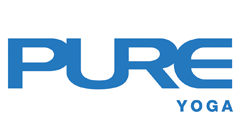 Wendy's love for movement developed at a young age, from gymnastics to snowboarding with many other sports in between. Injuries were always a part of her life, as was learning to heal from them. Yoga was a great friend and tool to help with the healing process. After retiring from professional snowboarding, Wendy pursued her love for teaching and Yoga. Originally from Whistler, Canada, Wendy spent many years living and teaching in California and has proudly resided with Pure in Hong Kong since 2006. When she's not teaching, Wendy and her husband accompanied by their little boy are out chasing waves and exploring Asia.
Wendy is extremely grateful to all her Yoga teachers but a few have very much directed her path towards healing and spirituality. Sara Powers of Insight Yoga taught Wendy the extreme value of blending a Yin sequence– to enhance the meridian and organ systems – with a slow flow or Yang alignment-based practice. This practice enlivened the physical and pranic bodies, and really spoke to Wendy. She felt like her body was changing and that her previous injuries from snowboarding craved some much needed love and compassion. Patrick Creelman – whose energetic gift and enthusiasm for precisions has helped mould Wendy into the teacher she isand allowed her to find her inner voice. Finally – VishvKetu of AkhandaYoga, who helped to tie it all together in Rishiskesh, India. At Anand Prakash Yoga Ashram, she was able to meet her inner teacher and undertand the healing effects of subtle body yoga and the powerful effects of Pranayama, Chakra mediation and Ayurveda.
Wendy believes that yoga practice is a healing tool to help us reconnect with our true self. She teaches students to challenge their limits and explore new postures but in a way that is safe and not too scary. From her past life in professional sports, she has learnt that pushing too hard risks injury and setback. Alternatively, learn to listen to your body, connect to your breath and your intuition. From that place, amazing results can be achieved. In her classes, Wendy encourages you to connect to your body in the present moment and practise in a way that will truly uplift and centre you. She blends Asana delicately with breathwork and subtle body connection, leaving you inspired and at peace.
QUALIFICATIONS & CERTIFICATIONS
Advanced Assisting and Sequencing Retreat with Yogrishi Vishvketu, 2016
Sara Powers Teacher Training, 2012
Patrick Creelman Teacher Training, 2006
VishvKetu Rishikesh India Teacher Training (500 hours), 2007
Ana Forrest Teacher Training, 2006
John Friend AnusaraYoga, 2005
Baptiste Power Yoga Levels 1 and 2, 2005
Yogi Bhajan Kundalini Yoga Teacher Training (500 hours), 2003
Bikram Teacher Training(500 hours), 2001
What Wendy teaches
Hatha
Healing
Hot
Pranayama & Meditation
Vinyasa
Yin
Yin Yang
Other teachers also in Pure South - The Pulse