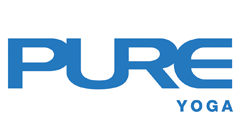 An avid dancer and lover of movement, Marah has picked up various injuries during her dancing career. She started practising yoga to free herself from pain and to help her grow stronger and more flexible as a dancer. Not long into her practice, she realised the immense healing capacity of yoga and dedicated herself to a regular practice. She is grateful to Patrick Creelman for igniting the fire. With a heart to serve and to help others heal, Marah decided to join his teacher training programme in 2009 and started teaching right afterwards.
She first came across Ross Rayburn in 2009 when she studied therapeutics with him. It was his crystal clear and concise teachings that led to her deeper understanding of the basic mechanical principles of the body. Moreover, she learned to teach with her heart and from a place of truth. Through his guidance over the years, she has developed her teaching voice and how to communicate her passion for yoga. Ross encouraged her to be persistent with her learning, which led her to meet Carlos Pomeda in 2011. The study of texts expanded her insights into human nature. Through meditation, she learned introspection. To be deeply anchored in being, spacious and inclusive are the most important things she has learned from them.
Marah's classes are simple yet challenging, with a focus on healthy alignment. By refining your observation, listening and focusing skills, you acquire a heightened awareness of your body. Through skilful actions, your inner intelligence is awakened. Marah loves unveiling life's mysteries and weaves these experiences into her classes so she and her students may engage themselves in living their yoga.
QUALIFICATIONS & CERTIFICATIONS
Philosophy and Meditation with Carlos Pomeda, Bali (2015)
Tricara Immersion with Ross Rayburn, Pure Yoga Hong Kong (2015)
Immersion with Ross Rayburn, Pure Yoga Hong Kong (2013)
Therapy Weekend Special with Ross Rayburn, Singapore (June 2013)
Anusara Intensive Teacher Training with Ross Rayburn, HK (February 2012)
Weekend Workshop with John Friend, HK 2011
Anusara Teacher Training with Ross Rayburn, Singapore (April 2011)
Anusara Immersions with Ross Rayburn, Seoul (October 2010- January 2011)
Feldenkrais Method Awareness Through Movement Workshop, Hong Kong (June 2010)
Anusara Immersion in Yoga Therapy with Ross Rayburn, Singapore (October 2009)
Pure Yoga Teacher Training with Patrick Creelman, Hong Kong (July 2009)
What Marah teaches
Hatha
Healing
Hot
Pranayama & Meditation
Vinyasa
Yin
Other teachers also in Pure South - The Pulse, Hutchison House, Starstreet Precinct