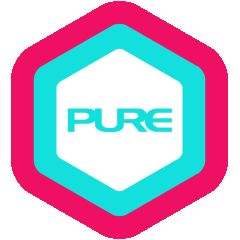 Lizzie went for her first yoga class at PURE in 2008 and soon fell in love with the practice. With each experience on the mat, she observed that yoga gave her added strength, energy and focus to carry her work out as a performer. She began to feel more connected and healthier in body, mind and spirit. She became more curious and wanted to deepen her understanding of yoga so she signed up for her first yoga teacher training in 2009. Two years later, she stepped into the studio as a yoga teacher for the first time.
Lizzie's teaching has been greatly influenced by her studies and practice with Patrick Creelman. His teaching of guiding students to pay full attention to alignment and action has had an immense effect on her. Treating each posture this way has constantly surprised Lizzie with what she can do. This has guided her to move on the mat with maximal precision and care and has simultaneously challenged her to be just as committed to doing so in life off the mat. Lizzie has also found great support to Patrick's teachings in Rinat Perlman.
Moving from a place of alignment has helped Lizzie grow new eyes of wonder over even the simplest, most basic postures. Each posture can always feel different when paid its full attention. Her classes focus on using alignment principles to help students on the journey to getting into a posture. With this kind of guidance and consistency, Lizzie hopes to spark insight and learning for students to become more connected. Students can then grow stronger in mind and body, creating a potential gateway to greater freedom within and outwardly.
QUALIFICATIONS & CERTIFICATIONS
FRC® - Functional Range Conditioning Seminar with Hunter Cook, 2019
Upeksha Immersions & Teacher Training: Get into the Heart of Teaching – Therapeutic Immersion with Ross Rayburn, 2016
Upeksha Immersions & Teacher Training: Get into the Heart of Teaching – Master Immersion with Carlos Pomeda, 2016
Wall Rope Yoga Level 2 Training with Bryan Legere, 2015
The Energetics of Excellence – Advanced Teacher Training and CET with Patrick Creelman (100 hours), 2014
Wall Rope Yoga Level 1 Training with Bryan Legere, 2014
Yin Yoga Teacher Training with Jo Phee (30 hours), 2014
A WildLotus Event: The Anusara Immersions Part 1 with Patrick Creelman, 2011
Seat of the Teacher Part 1 – Training For Teachers with Patrick Creelman (20 hours), 2009
The Foundation – Preparing to Teach, Teacher Training with Patrick Creelman (200 hours), 2009
What Lizzie teaches
Alignment
Hatha
Healing
Hot
Vinyasa
Wall Rope Yoga
Yin
Other teachers also in Starstreet Precinct