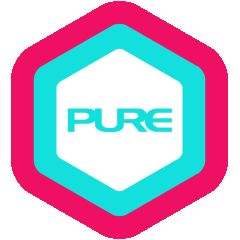 Relax. Release. Get strong. Get flexible.
Whatever your intention or level, PURE Yoga offers a
variety of classes to give you the ultimate yoga experience.
Why We're Here
We believe in the power of yoga to help
people lead happier, healthier and more balanced lives.

We offer exceptional teaching, facilities and environment
that inspires people of all ages and abilities to make yoga part of their lives.
PURE Yoga • Our Community
Aerial Yoga & Wall Rope Yoga




Facilities

Shower, Lockers, Towels,




Toiletries & Phone Chargers
Private Yoga & Group Privates




available

nood food & PURE Apparel




for 360 wellness!
What Classes are Good for Me?
For Toning
Hot 26/31/37, Ashtanga, Vinyasa
For De-Stressing
Pranayama & Meditation, Restorative
For Injury Treatment
Yoga Therapy
For a Different Challenge
Wall Rope Yoga, Yoga Wheel, Aerial Yoga
For Stretching & Increasing Flexibility
Yin, Warm & Relaxing Stretch, Yin-Yang
For Pregnancy
Pre-Natal Yoga
For Beginners
Any Basics Level Classes, Hatha Gentle, Hatha 1

Taught by a community of over 300 yoga teachers, we offer over 3,000 classes each week globally. Please try our "Pick a Class for me" wizard after you've signed up! We also have Yoga Workshops, Teacher Trainings & Retreats periodically.
Where are PURE Yoga Studios?
Take a look at PURE Yoga Pacific Place!
What are the Benefits of Yoga?
Boost Circulation
Detoxification
Strength & Flexibility
Stress Relief
Self-Confidence & Self-Esteem
Breath Control
Cardio Enhancement
Overall Fitness & more...!
Our Care for Beginners
We care for our beginners and make their introduction to our studio smooth and simple.
We explain to new students all the procedures and operations related to our studio.
We developed our 5 Pillars system, which is designed to aid the selection of appropriate classes for new students.
At the beginning of each class, new students are identified by the teachers, who guide them and help them stay safe in their practice.