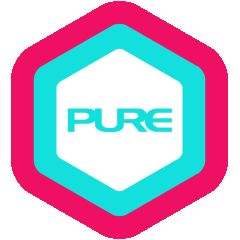 PURE Policies
Class Booking and Cancellation Policy
1. You may book a total of 6 classes (including waitlists) within a 5-day period* with a daily limit of 2 bookings per day.
2. Likewise, a total of 6 Fitness + 6 Yoga classes can be booked for Cardholders with access to both Fitness and Yoga.
3. You may still go for additional classes via physical "Try Standby" which is not counted towards your booking quota. Booking limit is also refreshed daily to allow new class bookings on the following day.
Example:
DAY
Today
Day 1
Day 2
Day 3
Day 4
Day 5
DATE
17 May
18 May
19 May
20 May
21 May
22 May
Customer A
(Fitness Only)
Not Counted
2 Fitness
2 Fitness
1 Fitness
1 Fitness
-
Customer B
(Fitness and Yoga)
Not Counted
1 Fitness
1 Fitness
1 Fitness
2 Fitness
1 Fitness
Not Counted
1 Yoga (Waitlist)
2 Yoga
1 Yoga
2 Yoga
-
On 18 May, the 5-day period is refreshed to start from 19 May – 23 May, allowing Customer A to book for 2 new classes.

4. If you cannot attend the pre-booked classes, please cancel the class 2 hours in advance and we will release your spot to other Cardholders on waitlist or for 'Last Chance' booking.
5. Last Chance Booking is available between 2 hours and up to 15min before class starts.
6. A total of 3 or more "Last Chance" booking cancellations or "Late-cancel" or "No-show" over 30 consecutive days will result in:
(a)
Booking privileges being revoked for
14 days
for each
occurrence;
(b) You will be restricted to in-person queuing on standby 15 minutes before class
7. Please arrive
at least 15 minutes before
your session and be prepared to start at the scheduled time. Scheduled sessions start and end on time and cannot be extended due to late arrival.
*Maximum of up to 2 classes/day can be booked, with up to 6 confirmed bookings within the 5-day period.
Suspension Policy
1. You must request and submit a completed Suspension Request Form (provided by PURE) in order to apply for a suspension of your relevant Cardholder Agreement services. A Suspension Request Form must be submitted within 5 days of your intended suspension date or at least 10 days prior to your next scheduled Autopay Fees date (if you have a monthly Autopay Fees commitment) to suspend, and your suspension request shall only be effective upon confirmation by PURE. No backdated suspensions are allowed.
2. Suspension periods must be in full month periods (i.e. requests for a suspension period based on odd days will not be permitted) and you are only allowed to suspend your Agreement once within any one (1) year.
3. You may suspend your Agreement for a maximum of twelve (12) months if you are pregnant or for a maximum of three (3) months in a calendar year for any other reason. The minimum suspension period is one (1) month. You are allowed to suspend your Agreement twice within a calendar year.
4. All non-pregnancy or non-medical suspensions will be charged SG$53.50 per month, and fees may be increased in due course at the discretion of PURE, by giving reasonable notice.
5. Suspension fee is non-refundable and non-transferable.
6. If you have a monthly Autopay Fee, your Autopay will resume automatically without prior notice once your suspension period has ended.
7. If you have a monthly Autopay or Prepaid package, the package expiry date will be extended by the number of month(s) suspended.
8. If you have committed to a monthly Autopay Fee, you agree to pay a pro-rata charge of your Agreement if you request to end the suspension earlier.
9. If you have a Prepaid package, you agree that the expiry date of your Prepaid Package shall be adjusted if you request to end the suspension earlier.
10. If you apply for a medical or pregnancy suspension you are required to provide a valid medical certificate that contains the date, your name, diagnosis, and the doctor's advice. PURE reserves the right to reject your suspension if such medical certificate is invalid and to charge you a Suspension Fee.
11. If you have a Monthly Locker rental, its fee will continue to be charged to your account via Autopay during your suspension period.
12. If your Agreement is under suspension (for any reason including pregnancy or medical) you are not permitted to access any PURE Facilities.
13. PURE reserves the right to reject any suspension request at its discretion.
14. In the event that your chosen Location is required to be temporarily closed for safety reasons or by mandatory government order ("Mandatory Closure"), and there is not another Location within 10 kilometres of your chosen Location that is accessible, PURE may suspend your Agreement starting from the 8th day from the date the Mandatory Closure has commenced until the date your chosen Location has been re-opened for use ("Mandatory Suspension"). For every full calendar month of Mandatory Suspension you will be charged a Cardholder maintenance fee that is equivalent to the normal suspension fee.
Termination Policy
1. All fees paid by you are non-refundable and non-transferrable
2. If you hold a Monthly Committed Autopay Package, you may not terminate your Agreement until the full minimum term has expired. After such time you may terminate your Agreement by completing a Termination Form at your centre or studio on or before:
(a) The 5th day of the month if your Autopay date is on the 16th day of each month;
(b) The 20th day of the month if your Autopay date is on the 1st day of each month; Your Agreement will then expire one (1) month after the following 1st or 16th bill cycle. If we have not received your termination request in writing, your Agreement will automatically continue after the minimum term period by billing you via Autopay each month.
3. If your request to terminate is given after the dates indicated in Clause 1 above, you will be charged one (1) month's non-refundable Monthly Fee, and your rights and privileges under your Agreement shall expire two (2) months after the last Autopay deduction.
4. However, should you wish to still terminate your agreement within the contract term, you can choose to pay the Early Termination Fee of S$500 (subjected to GST), with 1 month termination notice.
5. If you hold a Prepaid Package, you may not terminate your Agreement within the Prepaid Period. However, you may transfer your remaining package to someone else, at a one-time fee of S$200 (subjected to GST), with a 1 month termination notice.
6. If you hold a Class Package, you cannot cancel your Agreement in respect of such package.
7. Termination of your Agreement will automatically lead to termination of locker rental on the same date.