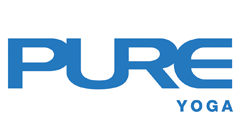 Workshops
50-Hour Dynamic Flow & Asana Lab CET with Miryam
A 50-Hour Yoga Alliance Accredited Continuing Education Training
To register, kindly click on the "Register Now' button below, or email to events@pure-yoga.com
About the Training
This inaugural Continuing Education Training is designed for seasoned practitioners, as well as yoga teachers (especially newly graduated) to delve deeper into their practice by learning creative techniques and exploring further details of postures / sequences.

Additionally, the module will also teach participants to understand the anatomy of key postures, draft drills for strength and flexibility, develop personal sequences, and how to stay connected to the practice. We will also touch on the different methodologies resulting in effective, creative, and sensible classes for students.

Key Focus:
Understanding Dynamic branches & origins - Vinyasa Yoga & Rocket Yoga

Systems of pre-set sequences vs modern creative ones

Drills to build strength and develop mobility / flexibility

Asana Lab - Anatomy, Postures breakdown, Techniques, Artistry

Creative Sequencing - Include transforming from simple to complex

Art of Adjustment and Assistance

Teaching Methodology - Class protocols, self-management, communication, planning class structure, and confidence building
Syllabus Summary
1. Sun Salutations & Warms Ups (6 hours)
1.1 Surya Namaskar and its intention.
1. 2 Sun Salutation A & B.
1.3 Modifications of Sun Salutations for population with special needs.
1.4 Chandra Namaskar / Moon Salutation and its intention.
1.4 Types of warm up
2. Shoulders and Hips Management (2 hours)
2.1 Conditioning drills for Shoulders and Hips
3. Asana Lab (20 hours)
Study of the basic alignment, modifications, benefits, contraindications, use of props, anatomy awareness, cueing techniques
3.1 Standing Poses
3.2 Hip Openers
3.3 Backbends
3.4 Seated poses
3.5 Arm Balances
3.6 Twisting Poses
3.7 Inversions
3.8 Supine Poses
4. Assisting and Adjusting (8 hours)
4.1 Difference between assisting and adjusting
4.2 Appropriate approach to assisting and adjusting from verbal cues, demo-ING, to physical touch
4.3 Props management

5. The Art of Sequencing (11 hours)
5.1 Dynamic Branches & Origins – Vinyasa, Rocket
5.2 Sequencing – Preset & creative improvisation
5.3 Safe & Unsafe Sequencing
5.4 Intentions & benefits of Particular Sequencing
5.5 Empowering Class structure - Artistry and dynamics of transforming simple to advanced postures

6. Teaching Methodology (3 hours)
6.1 Teaching Skills
6.1 Teachers Virtue and Self-Management (having a self-practice, journaling, keeping up with current knowledge, and updating class structure periodically - e.g. sequence, music)
6.2 Voice projection and Cues
Schedule
7 to 9, 15 & 16 August 2020
8:00am to 6:00pm daily

8:00am Practice
9:15am Relax, Refresh, Reconnect
9:45am Theory and Sequencing
12:15pm Lunch
1:15pm Digesting /Nada Yoga
1:30pm Asana Lab, Drills & Tutorials
3:30pm Break
3:45pm Teaching Skills - Aptitude & Attitude
5:45pm Recap
Graduates will be awarded a Yoga Alliance Accredited Continuing Education Training Certificate, and hours can be counted as CET hours.
Tuition
Full Training
Pure Cardholders: S$780 (Early-bird 20% Discount, register by 30 July)
Non- Pure Cardholders: S$878 (Early-bird 10% Discount, register by 30 July)
Regular Pricing: S$975
Terms & Conditions
Photos and video may be taken, solely for Pure marketing purposes.
Tax:
Please note prices include 7% GST
Early-bird 20% Discount:
Early-bird Discount ends

30 July 2020

. Please see above for listed prices.
Refunds/Cancellation:
Payment must be made 48 hours after registration, otherwise Pure Yoga reserves the right to release your mat to the next registrant waiting-in-line.

No refund or credit will be given for cancellation starting 30 July 2020.

All refunds are subject to a 10% processing fee that will be deducted from your refund.

Pure Yoga reserves the right to cancel the training as it sees fit, without any compensation made to the registrant other than refund of payment.
Special offer from Pure Apparel and nood:
20% off all Pure Apparel retail products for all yoga event registrants on dates of the workshop.

15% off all nood food items for all yoga event registrants on dates of the workshop.

20% off all smoothies and juices for all yoga event registrants on dates of the workshop.

$3.50 for any coffee or tea for all yoga event registrants on dates of the workshop.