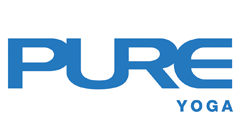 Teacher Training
70-Hour Yin Yoga Teacher Training with Nicky Hadjithoma
You do not have to be a PURE Yoga cardholder to join!

To register, kindly click on the "Register Now' button below, or email to events@pure-yoga.com
This 70-Hour Yin Yoga Teacher Training is a comprehensive study programme, designed for teachers and practitioners interested in understanding the anatomic and energetic theories of yin yoga. This training will unpack the theoretical aspects of the practice, whilst also covering the practical aspects of how to teach.

To support the theoretical lectures and discussions, daily teaching labs will provide the opportunity to incorporate principles of functional anatomy and Chinese meridian theory into the different ways to sequence a class.

Graduates of this yin yoga teacher training will not only understand the various theories behind this beautiful practice but will also leave with the necessary skills to teach a thoughtful and competent yin yoga class.
The training will be split into three key parts:
Theory and Practice of Yin Yoga

Functional Anatomy

Chinese Medicine Theory (Meridians in Yin Yoga)
Eligibility
This training is suitable for all levels. No pre-requisite is required. This training is designed for students and teachers who are interested in learning about Yin Yoga and incorporating its philosophy into their practice and teaching. If you would like to understand more about the history of this practice, delve deeper into the study of yoga anatomy, gain a better understanding of Chinese meridians, or simply wish to deepen your yin practice, then this is the training for you.

Mission Statement
To build our community of committed yoga practitioners, and to empower those who demonstrate their dedication to a personal practice, by sharing the knowledge, skills and tools we have learned so that they, too, can start teaching yoga. We intend to guide trainees toward a healthy self-confidence, while at the same time instilling them with a sense of humility and excitement, knowing that they are at the beginning of a long journey.
This training is designed to give a comprehensive foundation in all theoretical and energetic aspects of yin yoga. Upon completion, you will have gained the most essential skills necessary to confidently teach Yin Yoga to all levels.
A) Theory and Practice of Yin Yoga
Learning Model: Shravana, Manana, Nididhyasa

History of Yin Yoga

Yin and Yang Theory

Basic Yin Poses

Aesthetic Vs Functional Yoga Practice

Sutra for Functional Alignment

Yin Yoga Anatomy Practices

Yin Yoga Meridian Practices

Prop Usage in Yin Yoga

Modifications and Safety in Yin Yoga

Teaching and Sequencing Methodology & Practice
B) Anatomy of Yoga & Fascia Study
14 Skeletal Segments & Movements

10 Muscle Groups: Target Areas

7 Groups of Archetypal Yin Yoga Poses

Anatomy and Movement of Hip

Skeletal Variations (Hip)

Range of Motion Tests (Hip)

Three Layers of a Joint

Tension and Compression Theory

Three Types of Muscular Contraction

Theory of Exercise

What Is Pain?

4 Myofascial Compartments of The Thigh

6 Myofascial Compartments of The Torso

Analysis of Yin Yoga Poses
C) Traditional Chinese Medicine (TCM)
Fundamentals Of TCM

Yin Yang Philosophy

Modern Meridian Theory

Meridians and the Viscerals (Zang Fu)

Theory of Qi

Meridian Pathways

Meridian Tracing, Palpation

Causes and Symptoms of Qi Disruptions

Meridians and Organ Health

Meridians and The Emotions

Hand and Foot Meridian Points

The Five Element Theory

Five Colours and Five Tastes

Meridian Clock

Meridian Nidra
Daily Schedule:
16 - 24 October 2021
*20th October is a rest day.
(8 hours per day x 8 days = 64 contact hours + 6 hours of homework and assignments / self-study)
Morning Session:                             8:00am – 12:00pm
Afternoon Session:                          1.30pm – 5:30pm
Certification:
Students who has successfully completed the training will be awarded a 70-Hour Yin Yoga Teacher Training Certificate (Yoga Alliance Accredited). These training hours can also be added towards your Continuing Education with the Yoga Alliance.
Nicky is an E-RYT500 with the Yoga Alliance, a registered YACEP provider, and the senior teaching assistant to leading international yin yoga teacher trainer, Jo Phee (Founder of the School of Yinspiration Yin Yoga). 
Nicky first discovered yoga in 2007, during an important crossroads in her life. Having been a bit of a wild child, she began seeking a new way of life. Over time, her practice has given her the inner strength and resilience to deal with the complexities of life and helped to relieve her long-suffering issues with anxiety and depression. As such, Nicky believes yoga to be the ultimate healing practice and tool for transformation. 
Informed by her studies of Western anatomy and Eastern philosophy, Nicky's practice and teaching focus on exploring and nurturing a yin-yang balance on the journey towards physical, mental and emotional well-being. Her classes are a blend of functional alignment principles, modern meridian theory, and the art of Mindfulness Meditation. She guides students to understand their unique physicality, explore their inner landscape, and connect to the more subtle energetic qualities of the practice. Nicky's goal is for students to cultivate the self-awareness required to help them along their own healing journeys. Her strong nature combined with her warmth and sensitivity bring an empowering yet nurturing feel to her classes. 
Nicky is extremely grateful to her yin mentor Jo Phee for her ongoing influence and encouragement – as well as to her yang teacher Patrick Creelman for his constant support both on and off the mat. Having studied yin yoga for many years under the personal guidance of Jo Phee, Nicky has become Jo's senior teaching assistant and is privileged to assist her mentor on various yin yoga teacher trainings around the world. Nicky currently teaches full-time at PURE Yoga in Hong Kong, offering workshops and trainings in various modalities of yin and yin-yang yoga.
QUALIFICATIONS & CERTIFICATIONS
Advanced Fascia and Anatomy Yin Yoga Training – with Jo Phee, 2020

60-hour Myofascial Release, MyoYin & Spine Anatomy with Jo Phee, 2019

65-hour Medical & Meridian Qigong, Wall Yin & Lower Arm/Leg Anatomy – Yinspiration Yin Yoga Teacher Training with Jo Phee, 2019

65-hour Acupressure, AcuYin & Hip Anatomy (II) – Yinspiration Yin Yoga Teacher Training with Jo Phee, 2019

65-hour Chinese Medicine, Meridian Yin and Hip Anatomy (I) – Yinspiration Yin Yoga Teacher Training with Jo Phee, 2018

100-Hour Insight Yoga Teacher Training with Sarah Powers – Yin/Yang Yoga and Mindfulness Meditation, 2018

300-Hour Wild Lotus Teacher Training with Patrick Creelman and Rinat Perlman, 2016/2017

30-hour Insight Yoga Teacher Training with Sarah Powers – The Inner Practices of Yin Yoga, 2017

50-hour Yin Yoga Teacher Training – Myofascial Release and Spine Anatomy with Jo Phee, 2016

30-hour Yin Yoga Teacher Training – Anatomy and Chinese Medicine with Jo Phee, 2015

200-hour The Foundation – Yoga Alliance Accredited Teacher Training with Patrick Creelman, 2015

200-hour Yin-Yoga Yoga Alliance Accredited Teacher Training with Jo Phee and Joe Barnett, 2013, 2015 & 2019
70-Hour Yin Yoga Teacher Training with Nicky Hadjithoma
Full Training
PURE Cardholders: S$1,530 (Early-bird 20% Discount, ends 13 September 2021)
Non-PURE Cardholders: S$1,721 (Early-bird 10% Discount, ends 13 September 2021)
Regular Pricing: S$1,912
Photos and video may be taken, solely for PURE marketing purposes.
Minimum Students
This programme requires a minimum of 10 students.
Early-Bird Discount
Early-Bird Price: Application sent in on or before 13 September 2021.
Regular Price: Application sent in starting from 14 September 2021.
Refunds/Cancellation
No refund or credit will be given for cancellation starting 13 September 2021.
All refunds are subject to a 10% processing fee that will be deducted from your refund.
Special offer from PURE Apparel and nood food
20% off all PURE Apparel retail products for all yoga event registrants on dates of the training.
15% off all nood food items for all yoga event registrants on dates of the training.
20% off all smoothies and juices for all yoga event registrants on dates of the training.
$3.50 for any coffee or tea for all yoga event registrants on dates of the training.
*If there is any discrepancy between the printed and web versions, the web version shall prevail.
Will I be able to teach right after I graduate from this programme?
Yes. All the course materials taught in this course will equip students to teach yin yoga skilfully in private one-to-one and group class settings.  If, however, you wish to teach formally at a yoga studio, you will still require a 200-hour teacher training in order to register with the Yoga Alliance and be eligible for studio jobs. This can be undertaken within 3 years of graduating from this 70-hr yin training, at which point these 70 hours will be added to your continuing education hours. Some students will take this programme just to deepen their own personal practice or kick-start a life transformational experience, while others do it to immediately start a teaching career. Others who do not want to proceed into teaching immediately would immerse into further trainings. More than half the students from our graduate programmes begin teaching friends and family, then move into part-time teaching in studios and full-time teaching.

Will I be able to teach at PURE Yoga after graduating from this programme? 
PURE Yoga is always open to applications and supports graduates from our programmes. We do have many teachers at PURE Yoga currently, who are previous graduates. While we encourage graduates to apply with us, there is never a guarantee of job placement due to availability of openings or space within our studios. However, any graduates that apply with us are kept in our database and are advised if there are openings available. 

Will PURE Yoga help with my Yoga Alliance application? 
Upon successful graduation of our teacher training programmes, PURE Yoga will send the students a link to where they can apply for the Yoga Alliance certification. Our programmes and our school is Yoga Alliance accredited, meaning that students graduating from our programmes will "automatically" be approved when they apply to Yoga Alliance. From there, students will take their own steps in applying for Yoga Alliance – whether you are applying for 200-hour certification, 500-hour or so forth. 

If I need to miss a session, will I be able to make up for it? 
If there is a need to miss any sessions, it will be decided on a case-by-case basis. Please indicate any of such requests during application.

Will I receive a certificate after the programme? 
Upon successful completion of the programme and following the Code of Conduct – students will receive a Certificate of Completion (Yoga Alliance Accredited) from PURE Yoga for this teacher training programme.
*Please refer here for the full terms & conditions