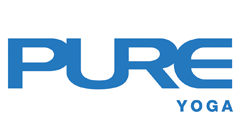 Workshops
Wall Rope II - Freedom, Vitality & Beyond with Veronique Tsui
Limited to 15 students.
To register, kindly click on the "Register Now' button below, contact our studio or email to events@pure-yoga.com
About the Workshop
The Ropes work by using gravity as a natural form of resistance, helping the body to open much further than in regular asana practice. Wall Rope poses are especially beneficial for spinal health through the use of traction to relieve pressure from compressed vertebral discs or through anti-gravity actions in poses to strengthen weak muscles for better bone and joint support. Proper Wall Rope yoga practice can also create deep opening in the organic body, which nourishes the organs, soothes the nervous system and quiets the mind.
This workshop will explore partner work and creative ways to perform intermediate asanas such as inversions, back bends, balancing, etc. Learn a new flow sequence on the ropes that will uplift your courage, strength and flexibility – and finish with soothing, supported asanas to restore and rejuvenate body, mind and spirit.
Who is the workshop appropriate for?
This Level II workshop is suitable for students who have been practising Wall Rope yoga for at least a year – or continuing students of Iyengar-style yoga who have an understanding of alignment and usage of props and the rope wall system.
Students who are pregnant or who have eye issues, heart problems, high blood pressure or pre-existing injury in the neck, spine and joints should not attend this workshop unless with the teacher's permission.
Workshop Schedule
Class A: 17 August (Saturday) 10:00am – 1:00pm
Class B: 18 August (Sunday) 10:00am – 1:00pm
Capacity: 15 people
Students are required to enroll for both Class A and B.
Tuition
Wall Rope II - Freedom, Vitality & Beyond with Veronique Tsui
(Pure Cardholders) Early-bird 20% discount: S$428 (ends 25 July)
(Non-Pure Cardholders) Early-bird 10% discount: S$482 (ends 25 July)
Regular Price: S$535
Terms and Conditions
Photos and video may be taken, solely for Pure marketing purposes.
Please note prices include 7% GST
Early-bird Discount ends 25 July 2019. Please see above for listed prices.
Payment must be made 48 hours after registration, otherwise Pure Yoga reserves the right to release your mat to the next registrant waiting-in-line.

No refund or credit will be given for cancellation starting 25 July 2019.

All refunds are subject to a 10% processing fee that will be deducted from your refund.

Pure Yoga reserves the right to cancel the training as it sees fit, without any compensation made to the registrant other than refund of payment.
Special offer from Pure Apparel and nood:
20% off all Pure Apparel retail products for all yoga event registrants on dates of the workshop.

15% off all nood food items for all yoga event registrants on dates of the workshop.

20% off all smoothies and juices for all yoga event registrants on dates of the workshop.

$3.50 for any coffee or tea for all yoga event registrants on dates of the workshop.
To register, kindly click on the "Register Now' button below, contact our studio or email to events@pure-yoga.com